PHJC Volunteer Program a Community Benefit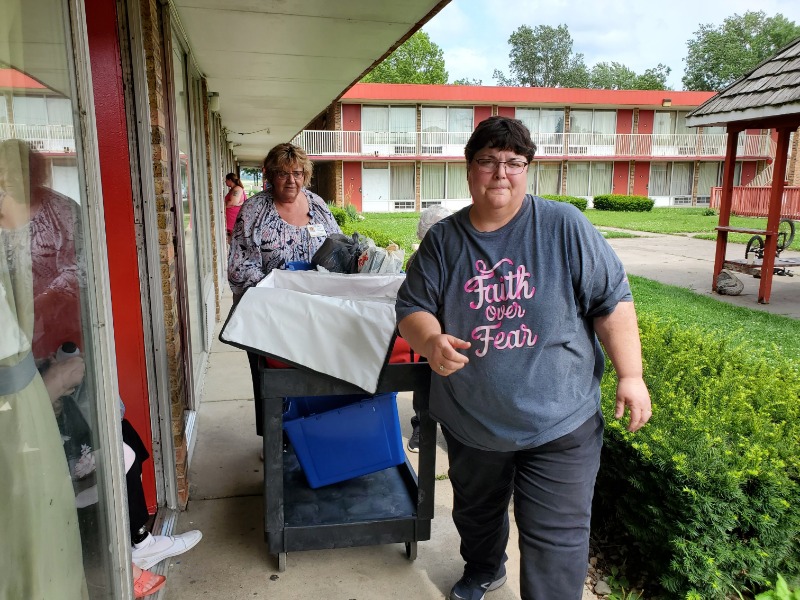 "Happy Thursday! Groceries! Sister Connie!" Accompanied by a loud knock on each door, it's a welcoming greeting to Plymouth's most vulnerable, repeated numerous times two days a week by PHJC Volunteers delivering food and supplies. PHJC Volunteers provide food and essentials to one trailer park and two transient hotels twice weekly. Sister Connie is ensuring that 60 migrant farmworkers have sack lunches and morning coffee, to supplement the single daily meal their employer offers.
With consistency and bereft of fanfare, the PHJC Volunteer program has made a community impact for Plymouth's most vulnerable residents. Plymouth's two transient hotels and a trailer park behind the Duke of Oil attest to the unstable housing in the area. These stats for the first half of 2021 also indicate food insecurity:
Sack lunches – 3,280
Extra Sandwiches – 1,295
Cultivate frozen meals – 2,940
Grocery bags – 3, 928
Hygiene bags – 384
Additionally, she provides clients with diapers, baby wipes, home linens, and personal care products, which everyone needs but cannot be purchased with SNAP benefits. Currently, the program is in need of donations. Groceries are increasingly more expensive, and it takes money to feed those most vulnerable. VTO hours can also be used to both pack items and for the twice-weekly deliveries.
There's also a story that stats don't tell. Sister Connie has built a coalition of stakeholders in Marshall County who are dedicated to eliminating hunger. They include the Community Foundation, the United Way and the Food Council, all of Marshall County, Cultivate Food Rescue of South Bend, and the Saint Joseph Regional Medical Center tobacco cessation program.
The PHJC Sisters have a long history of service to the migrant communities where they serve, both in the U.S. and abroad. In the 1980s, Sister Edith Schneider taught and assisted migrant children of workers picking tomatoes and peppers in Marshall County. She went on to serve in both Nicaragua and Mexico. Sister Connie Bach has taken myriad trips to the border and into Mexico to serve those awaiting entry into the U.S. and those newly arrived. It's a volunteer full circle with Ernesto serving twice a week on the delivery trips into Plymouth.
---