Volunteer Program Updates
BADGER CATHOLIC STUDENT GROUP JOINS PHJC VOLUNTEERS IN MINISTRY.
The bitter-cold, first week of January was tempered by the warm, service-oriented hearts of 17 students from Badger Catholic, a group of students from the University of Wisconsin and Edgewood College in Madison, who joined Sister Connie Bach's PHJC Volunteers in making an impact at several PHJC ministries. Accompanying them was Father Tim Mergan, who served alongside the students and celebrated Mass during the visit for the students, Sisters, and residents.

In their third service trip with The Poor Handmaids Volunteer Program, Badger Catholic students served at Sojourner Truth House in Gary, visited Albertine Home in Hammond, worked at the campus greenhouses, and packaged and delivered food and basic needs to two hotels that house the vulnerable in Plymouth, Indiana.

For many of the students, it was their first hands-on volunteer experience since the pandemic began nearly two years ago. Edgewood College senior nursing student Grace Brennan was delighted to serve in-person again. "I love being able to help out, especially amid COVID, but there were limited opportunities. Last semester, I couldn't get eight hours of hands-on service in; nothing was open to in-person service." While in Hammond, the students visited the Albertine Home to play bingo with the residents, something Grace, pictured above, appreciated since she's worked in senior care while earning her nursing degree.

Badger Catholic Focus Minister Erica Nossaman relished spending a week serving others, and for the new experiences, so rare during the pandemic. "Any small thing you do, you can do for Christ. I'm super thankful for this opportunity," she said as she and Grace transplanted lettuce heads in the greenhouses.

Many students expressed gratitude for the community they built both with one another and with the Poor Handmaid Sisters. Junior Lydia Heinen noted that UW Madison is such a big campus and has a large Catholic community, so she was meeting some of her fellow volunteers for the first time. "It's amazing how close we've grown in this opportunity to serve and encounter Christ in others," she said.
Hunter Wallace, co-leader of Badger Catholic, also a junior, found the Sisters "super welcoming and mindful of the students' needs, too. It's a service-oriented group that's been so cool to be a part of," he noted while he and Father Tim hauled and stacked wood to be burned and made into biochar, an organic soil supplement used in the greenhouses.

The students created instant community with a man they delivered food and hygiene supplies to at Plymouth's Red Rock Inn as they serenaded him with Happy Birthday. Freshman Dina Cianca noted of the experience: "The Poor Handmaids' hospitality, simplicity in service, the sense of community, and love will keep us serving God for a long while."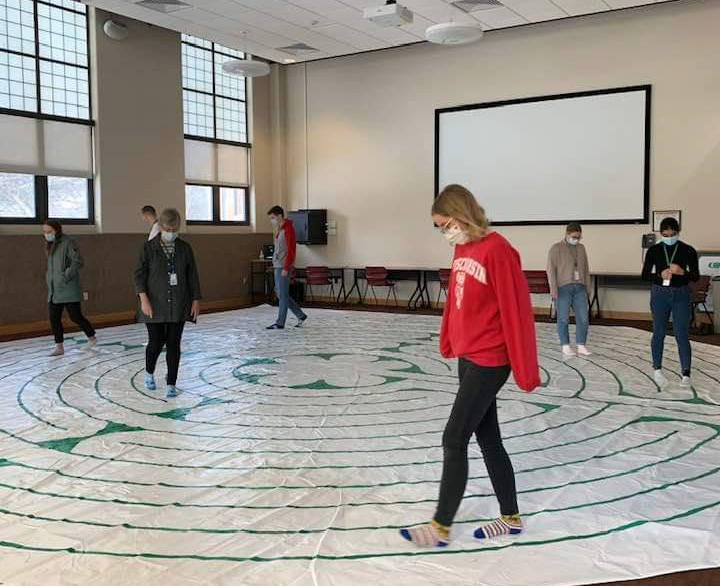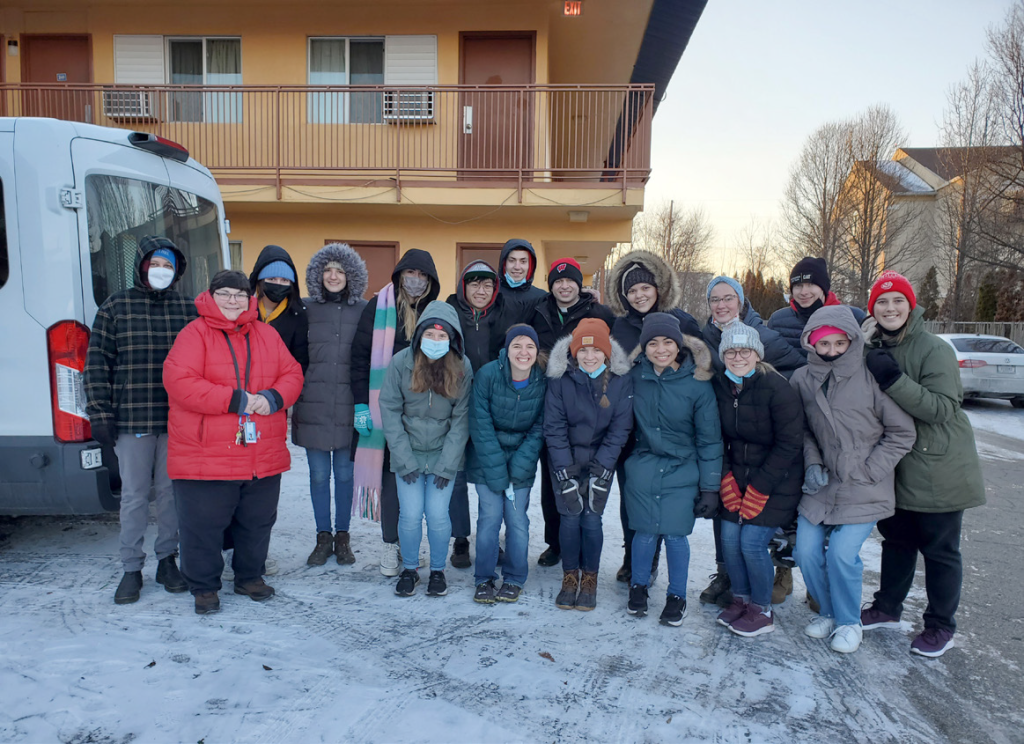 Sharing Intentional Community
The opportunity to volunteer with the Poor Handmaids of Jesus Christ was a wonderful experience and I would recommend it to anyone. When I started looking into joining a volunteer program I wanted to go somewhere I could help and feel useful. My main goal was to get a sense of fulfillment after quitting my job of ten years. Although that did end up happening and I am heading home with an overflowing heart…I received much more than I could have hoped for. A friend of mine mentioned that I might end up getting more that what I give, and now, I think that is true.
Living in intentional community connected me with others in a special way and I know I'm leaving Querétaro with life long friends. The bond developed over daily prayers and meals is a strong one. Initially I was worried about not doing enough, but thanks to the volunteer coordinator, Sr. Connie, and my spiritual director, Sr. Marybeth, I was able to focus more on the small works/gifts and on the ripple effect of my time here.
When I say I got more than I could've hoped for, it is in the sense that I was able to focus on me and my spirituality in a way I don't think I would have been able to back home. In looking to help others, God was looking to help me…and gifted me with the present of time for myself and spiritual growth. Yes, there is always something to be done, but the sisters have a different rhythm in life…one that allows for prayer, reflection, and self care. I plan to keep keep those values with me going forward.
Due to unforeseen circumstances I stayed a month in the formation house and was able to get into a comfortable routine of prayer and teaching along with early risings. Being open and flexible are key when going into something new, and although I had no idea what to expect, my month at the capital was wonderful. I was able to teach English to the novice Ilsy and aspirant Yessica. On Wednesdays I would join either one of them at their respective ministry site. Ilsy's ministry site was Niños y Niñas, a center dedicated to tutoring kids and helping them with homework. Mostly it's kids that need the one on one attention, and it was my favorite to work on their reading. Yessica's ministry was Casa Cuna, and that is a religious community run daycare. I mainly worked with 1.5-2.5 year olds and they were so precious! My favorite was watching them practice the dance they would perform on Independence Day. The morning and evening prayers and daily mass was a big difference from my normal weekly mass and once a day prayer, but it was just what I needed. Developing these habits have been instrumental in my time since the end of my mission. During the morning prayer we would review the gospel of the day, and we would discuss what spoke to us or what we understood. At first it was a bit intimidating to speak up, because I had never really discussed the Bible much…but Sr. Silveria and the girls were so great at explaining and sharing their viewpoints that it soon became a natural part of my learning.
After a month at the formation house I was able to move to San Ildefonso, which is a small town closer to Amealco and about an hour and a half from Santiago de Querétaro. I had the opportunity to meet and work with some of the Otomi indigenous residents of San Ildefonso. Mondays, Wednesdays, and Fridays I taught the kids English, computer skills, and crafts. Tuesdays and Thursdays I taught English and computer skills to the adults. Safe to say the crafts portion was the favorite part of the class for the children. One of the crafts was making a God's eye, and one student in particular loved making them. I gifted her the remaining material so she could make more. Her grandfather said he could likely sell them for her, so she was excited about that. Most of the students that came by were from very humble homes, but one group of siblings in particular was in need of dire assistance. Their mom was unable to provide food for them, and Sr. Mary was able to secure them a grocery sponsor from the states. Although it was heartbreaking to see so much need, it was good to see that this religious community exists and is truly doing Jesus's work. It's not exclusively praying (which is beautifully powerful in itself), but it's full of action as well. As the days went by our plate seemed to get more and more full, and I loved it. By the end of my time there Sr. Mary and I were going to San Pablo for choir practice on Saturday evenings, Tepozán for guitar lessons (taught by Sr. Mary) on Wednesdays, trying to visit the sick on Tuesdays, Bible study on Saturday morning, and I taught morning and evening classes three days of the week. It seemed there was a never ending task list, and it felt so good to be involved in the town and neighboring villages. The people always greeted us with such warmth and kindness. One day after mass we were invited to a home and we ended up leaving with a bag of tomatoes, peaches, and lemons. Mind you, it was the host's birthday, and we were the ones leaving with our hands full. There were many other instances such as that one that would just fuel the soul. I was so grateful to share those experiences with Sr. Mary, they were all possible because of the community she cultivated over more than a decade of being in San Ildefonso.
During my time in San Ildefonso I met a young mother of four and we became fast and close friends. She and her family were one of the many blessings from the town. She welcomed me into her home and her family. She was one of my students along with her kids. I fell in love with her children and they gave me the sweetest send off along with the cutest farewell letters when my time there was over. They still go crazy when they see a plane flying by and send me adorable messages via WhatsApp.
Sack lunches, Grocery Bags, Hygiene Bags and More!
PHJC Volunteer Program a Community Benefit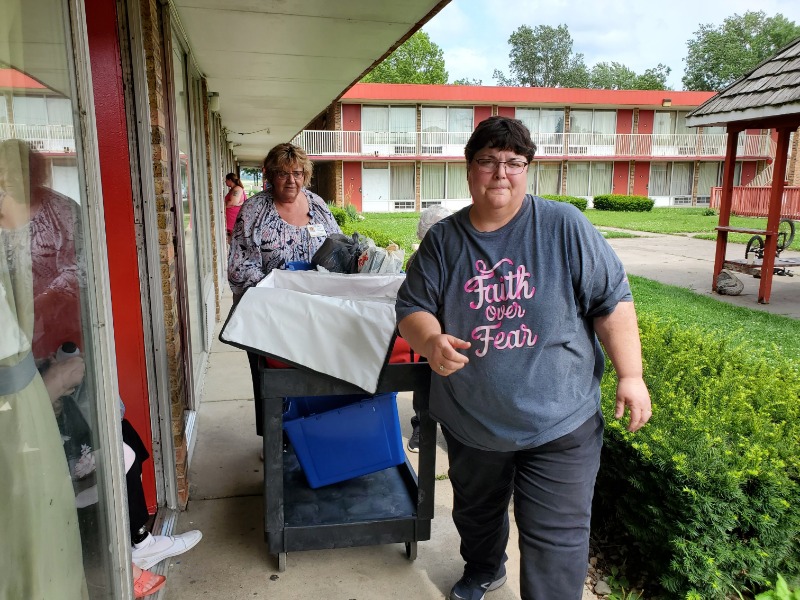 "Happy Thursday! Groceries! Sister Connie!" Accompanied by a loud knock on each door, it's a welcoming greeting to Plymouth's most vulnerable, repeated numerous times two days a week by PHJC Volunteers delivering food and supplies. PHJC Volunteers provide food and essentials to one trailer park and two transient hotels twice weekly. Sister Connie is ensuring that 60 migrant farmworkers have sack lunches and morning coffee, to supplement the single daily meal their employer offers.
With consistency and bereft of fanfare, the PHJC Volunteer program has made a community impact for Plymouth's most vulnerable residents. Plymouth's two transient hotels and a trailer park behind the Duke of Oil attest to the unstable housing in the area. These stats for the first half of 2021 also indicate food insecurity:
Sack lunches – 3,280
Extra Sandwiches – 1,295
Cultivate frozen meals – 2,940
Grocery bags – 3, 928
Hygiene bags – 384
Additionally, she provides clients with diapers, baby wipes, home linens, and personal care products, which everyone needs but cannot be purchased with SNAP benefits. Currently, the program is in need of donations. Groceries are increasingly more expensive, and it takes money to feed those most vulnerable. VTO hours can also be used to both pack items and for the twice-weekly deliveries.
There's also a story that stats don't tell. Sister Connie has built a coalition of stakeholders in Marshall County who are dedicated to eliminating hunger. They include the Community Foundation, the United Way and the Food Council, all of Marshall County, Cultivate Food Rescue of South Bend, and the Saint Joseph Regional Medical Center tobacco cessation program.
The PHJC Sisters have a long history of service to the migrant communities where they serve, both in the U.S. and abroad. In the 1980s, Sister Edith Schneider taught and assisted migrant children of workers picking tomatoes and peppers in Marshall County. She went on to serve in both Nicaragua and Mexico. Sister Connie Bach has taken myriad trips to the border and into Mexico to serve those awaiting entry into the U.S. and those newly arrived. It's a volunteer full circle with Ernesto serving twice a week on the delivery trips into Plymouth.
---
Volunteer Program Aids Local Homeless
Pilot News highlights Volunteer Program to feed hungry.
Click here to view the online article.
---
PHJC Volunteer Program Begins Homeless Project
As we currently live in a time in history where uncertainty is the name of the game and quarantining and staying home are the rules, what do you do when you haven't all the resources required to play? For many in Plymouth and the surrounding area this is unfortunately the case; and for several community organizations including our very own Volunteer program spearheaded by Sister Connie Bach, that is an unacceptable reality.
With a 10.9% poverty rate in Marshall County, we are ranked the 45th poorest county in the state stats.indiana.edu, a statistic only exacerbated by the recent pandemic, rising unemployment rates, in addition to the looming end of the moratorium on evictions. Sister Connie and many other community leaders via a recent round table discussion regarding these staggering facts have decided they aren't about to wait for the game or the rules to change. Every Tuesday, Thursday, and Sunday these amazing and selfless individuals consisting of many, many additional volunteers have been coming together to feed the homeless in our community as well as provide them with additional items needed to keep warm during these cold winter months. "Several afghans have been received, and Sisters are feverishly making hats, scarves, and mittens" said Sister Connie. "However we are also in need of hygiene products as well as many other items that can be found on a list distributed throughout the Motherhouse, we are also accepting monetary donations delivered to the Development department earmarked for the PHJC Volunteer Homeless Project" she continued.

As with any incredible opportunity to help the community, leadership has granted employees Volunteer Time Off (VTO) eligibility to assist in this effort. Many have been gathering weekly behind Cana Hall to pack sack lunches and distribute items to those in need as well as lend an ear and a voice for many who feel lost or alone during a time when all any of us want is to be together and safe. Sister Connie states that this is an ever-evolving process and one that will continue as long as housing and safety are an issue for our community members. If you would like to participate in these ongoing efforts, please reach out to Sister Connie for additional information on times and growing needs. Let us also rejoice in our love and faith of one another and the knowledge that despite the situation at hand we are never truly alone when we hold God in our hearts.