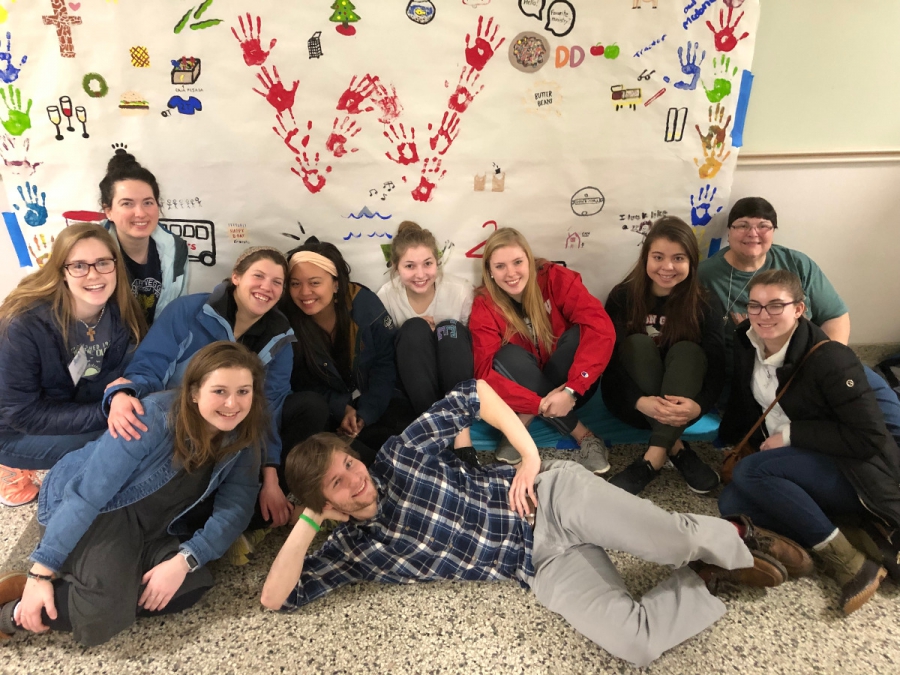 Diving and splashing, the ten of us (student volunteers from the University of Wisconsin-Madison) and Sr. Connie Bach relished the warmth of the pool we had been looking forward to swimming in all week. We were approaching the end of our time with the Poor Handmaids and had plans to return to UW-Madison to meet the end of our winter break. In between all of the laughter and pool antics one of us observed, "There's really nothing on this trip we haven't done." We nodded. We volunteers, at that point, had spent time and MoonTree Studios and served in various ministries including Casa Catalina, Nazareth Home, Sojourner Truth House, Ancilla College, Maria Center, Catherine's Cottage and the Catherine Kasper Home. We cleaned and arranged books, handed out countless cans of butter beans, and sorted mounds of baby clothes while also being able to play with the adorable kids. Having the opportunity to serve in so many meaningful ways, interspersed with conversation and prayer with the Sisters and residents, was what made this experience remarkable and filled with meaning.
We grew to love the Sisters as their love for God and their work was apparent in every conversation, every word of advice or question. Hearing about their education and ministries was captivating and wholly inspiring. Starting off each day at breakfast asking about favorite ministries over eggs and oatmeal soon became a motivating reason to wake up before the sun rose. And painting symbols on our hallway mural to represent our experiences from each day each kept us up long after it had gone down. There was always one more memory, one more notable piece of our service we wanted to record.
Sister Connie's guidance in our prayer and service throughout the week helped open us up to doing God's work, and gave us the energy and brightness to keep going even as the days became long. We were glad to go to bed exhausted each night knowing we were doing God's work, and learning to appreciate the powerful ways in which God works through others.
The post-trip survey asked what my main take-away from the week was, and the first thing that came to mind was all of this love. The feeling was almost overwhelming to me when I first set foot in the Motherhouse Chapel. It's true that hardly any of us knew each other at the start of the trip. But how could we not come together with all of this camaraderie and reflection, and willingness to pair up and do whatever work was needed? In the words of Sister Eileen Sullivan, "This is all a part of God's plan."
It is easy, especially as students, to be consumed in school and friends and forget the importance of why we walk with God in our lives. This week impacted me through how vividly I experienced God's love through those around me, and the connectedness I felt in this opportunity to serve in God's name. I bring that love back with me, and I only hope others have the joy of experiencing the love and strength of spirit in the Poor Handmaids of Jesus Christ.