The Journey of God's Will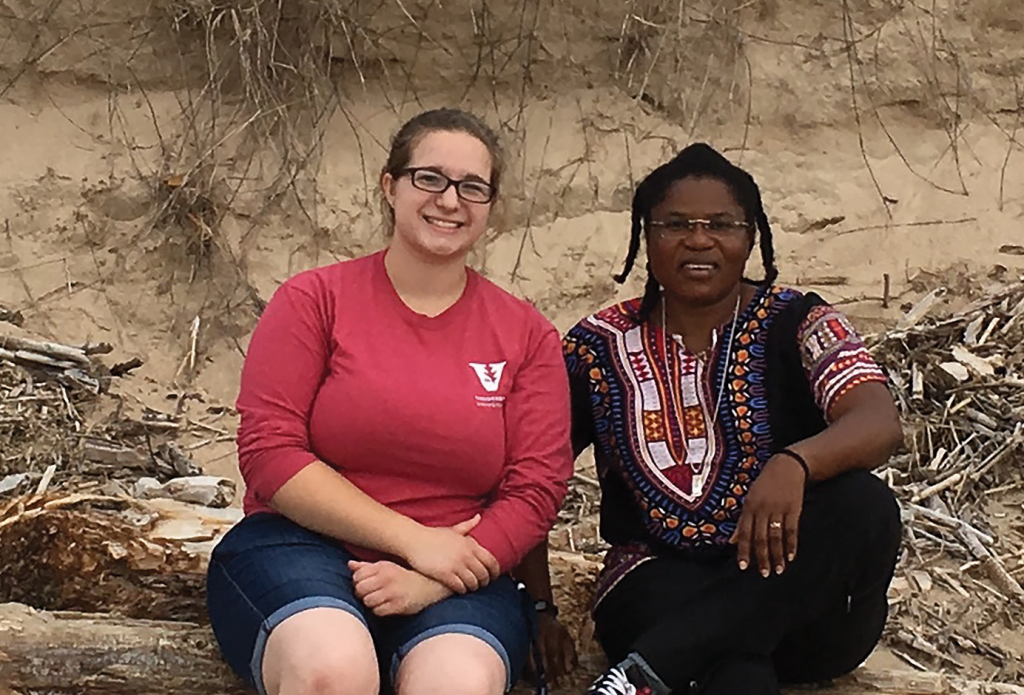 "Keep in mind that it's the journey and not the destination that counts." These words of wisdom were given to me on a tiny slip of paper gently slid across the table by Sister Marybeth at a Denny's Restaurant in Gary. I had been at the Sojourner Truth House (STH) for only four days at that point, yet I had already been to a rally for immigrant rights, started volunteering at Sojourner, and had the opportunity to go to the beautiful Motherhouse in Donaldson and meet many amazing Sisters. She did this as we said goodbye, and it left me wondering, would I fall victim to focusing in on the day I left, and just count down the days? With a little help from God, the Sisters living at Sojourner Truth House, and a jam-packed schedule this did not happen.
As I dove into my volunteer work I began to realize how much there was to learn, not only about work, and interactions with experienced and interesting people, but about life itself. I quickly formed connections with the staff at STH, the children I worked with, and Sisters Nkechi and Loretta. My appreciation for these two Poor Handmaids can take up thousands of pages, but I will limit it to say that as a congregation you should be ecstatic to have them as part of it. They took me on many adventures including three trips to Donaldson where I had a life-changing encounter in the chapel, two trips to Chicago, a drive to Fort Wayne to connect a client and her family, and quality dinners at Golden Corral. Each adventure proved more interesting than the last, but what I found that was truly special – the ability to have conversations and tell the Sisters things that not even my family knows about me. It is rare to find such pure and noble hearts, but the inhabitants of Sojourner Truth House possess those qualities.
By living at STH I also became a part of the Gary community. I realized the risk of living in such a place, even hearing gunshots at night, but it is not the violence that defines Gary. What defines Gary is the community that I found every Sunday at the parish of Saints Monica and Luke. People living in a broken city, but injecting life into it through their love and laughter. When the choir would sing, tears would fall down my cheeks at seeing hope incarnate. No matter how many buildings and bricks may fall down, the people of Gary will rise, and I believe this is what defines the city.
Additionally, in Sister Nkechi's honor, I attempted to immerse myself in the African culture, (specifically Nigerian and Ethiopian) and found many similarities, but also positive and uplifting differences. I realized that American culture has a way of sugar coating (sometimes with literal sugar) conversational problems that exist. We interact on a very surface level of small talk without bothering to ask, "What are your dreams?" "What makes you who you are?" I challenge any of you who are still bothering to read this article to open yourself up to others, and they will do the same for you.
So rather than count down the days until the end of this experience, I am shocked by how quickly they passed and how much I wish they could continue. But for the sake of adventure, and for God's will to be where God needs me, I must press on. My experience here has given me more faith, hope, and love than I could have ever imagined. In living in community, I also found myself. Not many people can say that from only a six-week experience. I would like to thank all of the Poor Handmaids who have encouraged me throughout this journey. I will never forget this experience. And to Sister Eileen Sullivan, I will be thinking about you all the while during my stay in Ireland. I hope to return to Indiana one day to reconnect with the Poor Handmaids. Whether that be in Sisterhood or Association, only God and time can tell. Just know you are all, and forever will be, in my prayers. God Bless!